One app. Infinite possibilities.
Discover all the powerful features of the Salesforce mobile app.
With the Salesforce mobile app, you always have all the vital information you need right at your fingertips.

Get the latest info, instantly.
See every post and everything that's important to you, front and center.
Pull up sales figures in a tap.
Drive quicker decisions with real-time dashboards for sales, service, marketing, and business performance.
Own your day with a comprehensive view of all your meetings, account details, and tasks.
View the most urgent posts and approval requests in one convenient location.
Find the data you need in seconds. Search by list and recently accessed records, or perform global queries.
Keep your deals moving fast by quickly seeing where you are in the process, what's important at each stage, and only the most urgent information at the top.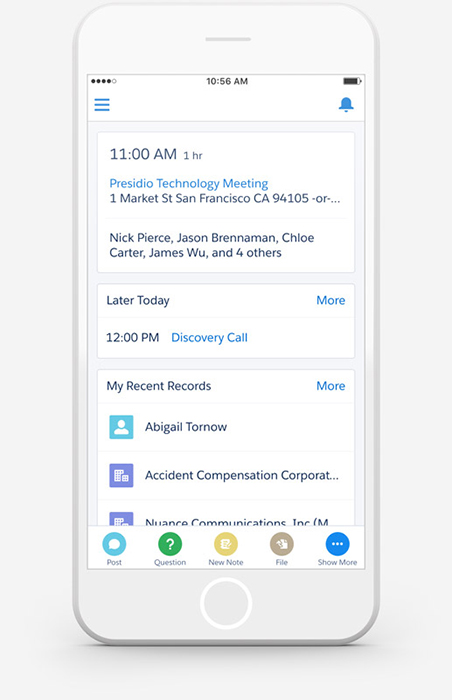 Take action from anywhere.
Drive sales, align your team, and keep all your CRM data current on the fly.

Manage opportunities, accounts, and contacts faster.
Add new contacts, update opportunities, and keep customer accounts up to date.
Fly through your to-do list.
See a comprehensive view of all your tasks. Create, sort, review, and check off your tasks in one location.
Work your cases on the go.
View and edit cases from anywhere. Quickly and easily escalate cases to deliver accurate answers back to the customer.
Access feeds, groups, people, and files to collaborate on projects with colleagues and customers on the go.
Take control of your leads.
Take new leads, see all your existing leads, and convert them on the fly.
Open and edit Office documents, spreadsheets, and presentations right from the Salesforce mobile app.
Add your own apps, build custom actions, brand the app specifically for your company, and pull AppExchange apps in to customize the app for your business.
Set up custom actions in a flash.
Create custom actions based on the activities you or your users need to perform most often.
Create any custom app and deploy it instantly.
Deploy all your custom objects, fields, and any apps you've integrated or built declaratively to mobile.
Find the perfect apps for your business.
Choose from hundreds of mobile-ready partner apps on AppExchange.
Brand the app for your company.
Customize the Salesforce mobile app to match the look and feel of your company's branding, so the app is instantly recognizable to your mobile users.